5th Generation: Nathaniel Burwell
Born: 1750
Married: Susannah "Sukie" Grymes on November 28, 17721
Died: 1814
Burial: Old Chapel Cemetery, Clarke County
Will:
Parents: Carter Burwell and Lucy Ludwell Grymes
Children:
Carter Burwell
Philip Burwell
Lucy Burwell
Nathaniel Burwell
Lewis Burwell
William Burwell
Lewis Burwell
Robert Burwell
Nathaniel Burwell descended from the branch of the Burwell family that lived at Carter's Grove in James City County. In a Tidewater accent, the last name is often pronounced as a one-syllable "Burl."
Nathaniel inherited 5,500 acres patented originally by his grandfather Robert "King" Carter, who had served as land agent for Lord Fairfax. That land was part of a 50,212 acres patent obtained by "King" Carter in 1730.
After the Revolutionary War around 1785, General Daniel Morgan and Col. Nathaniel Burwell partnered to build the Burwell-Morgan mill in the community that became known as Millwood. Demand for wheat was high, and their merchant mill ground grain produced by farmers in the Shenandoah Valley. The flour was transported by boat down the Shenandoah and Potomac rivers to market in Alexandria.
Morgan had been a teamster driving a wagon in General Braddock's disastrous 1755 campaign against the French fort Duquesne at the site of modern-day Pittsburgh, Pennsylvania. He commanded the 11th Virginia Regiment of the Continental Line in the Revolutionary War, led a rifle corps that was a key part of the American victory at Saratoga, and became a general serving under Nathanael Greene in 1780-81.
Daniel Morgan orchestrated the Battle of Cowpens, in which Banastre Tarlton's legion was demolished and General Cornwallis lost much of his light infantry. Morgan retired due to ill health before the surrender at Yorktown, and built his home Saratoga in the Shenandoah Valley near Millwood.2
After Susannah "Sukie" Grymes died in 1787, Nathaniel Burwell married Lucy Page in 1789. She was the widow of General Baylor, who had died in Barbados in 1784. Nathaniel Burwell and Lucy Page started another family, also with eight children. They born between 1789-1805.3
After the Revolutionary War, Nathaniel Burwell lived intermittently at "Brookside," a house he built near the mill in Millwood. He built Carter Hall in 1792-1800, when he was married to his second wife Lucy Page.
Around 1804, Nathaniel Burwell transferred Carters Grove in James City County to his oldest son Carter Burwell, and focused his energies around Carter Hall:4
In the crossroads of Millwood he built a tanyard, a tanner's house, another mill and eventually a distillery, also in partnership with General Morgan who lived at Saratoga a mile west of the village.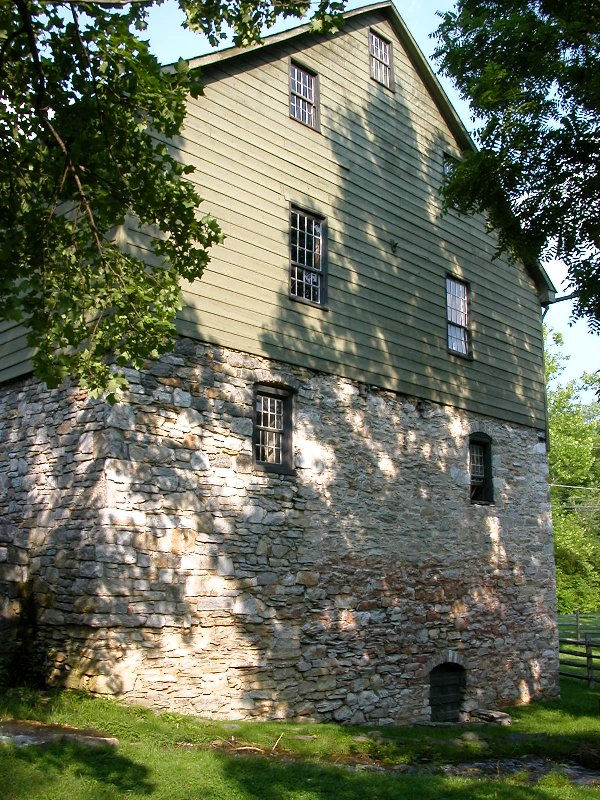 Burwell-Morgan Mill
References
1. "Burwell Family Bible," Colonial Williamsburg, http://research.history.org/library/materials/manuscripts/view/index.cfm?id=BurwellBible (last checked March 21, 2016)
2. "The Grymes Family (continued)" The Virginia Magazine of History and Biography, Virginia Historical Society, Volume 28 Number 1 (January 1920), p.96, http://www.jstor.org/stable/4243758; "History," The Burwell-Morgan Mill, http://www.burwellmorganmill.org/history.html (last checked March 22, 2016)
3. "Col Nathaniel Burwell," Find-a-Grave, https://www.findagrave.com/memorial/14974331/nathaniel-burwell; "Lucy Page Burwell," Find-a-Grave, https://www.findagrave.com/memorial/132260436/lucy-burwell; "Gen George Baylor," Find-a-Grave, https://www.findagrave.com/memorial/64463171/george-baylor 4. "Millwood Mill," Nomination Form for National Register of Historic Places Inventory, Virginia Historic Landmarks Commission, September 9, 1969,http://www.dhr.virginia.gov/registers/Counties/Clarke/021-0023%20_021-0023_Burwell-Morgan_Mill_nomination.pdf (last checked March 22, 2016)
---
The Grymes Family