5th Generation: Thomas Nelson Jr.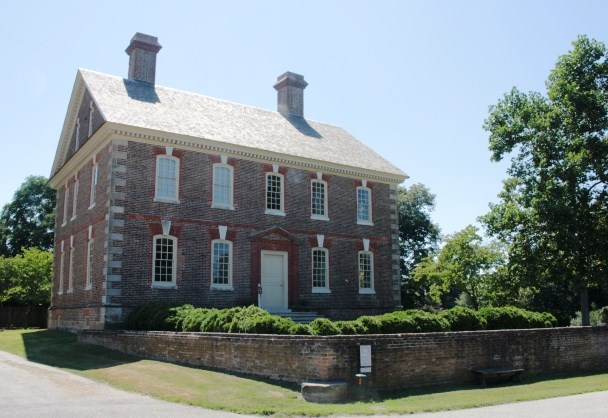 Governor Nelson ordered cannon fired at his house during the siege of Yorktown in October, 1781
Source: National Park Service, Nelson House
Born: December 26, 1738
Married: Lucy Grymes on July 29, 1762
Died: January 4, 1789 in Yorktown
Burial: Grace Churchyard, Yorktown
Will:
Parents: William Nelson and Elizabeth Burwell
Children:
Berryman Nelson (1760)
William Nelson (August 09, 1763)
Thomas Nelson, Jr. (December 27, 1764)
Philip Nelson
Francis Nelson (June 25, 1767)
Hugh Nelson (September 30, 1768)
Elizabeth Nelson
Edith Nelson ()
Mary Nelson ()
Lucy Nelson ()
Robert ("Chancellor") Nelson ()
Robert Nelson ()
Susanna Nelson ()
Judith Nelson ()
James Nelson ()
Thomas Nelson was known as "Junior" to distinguish him from an uncle also named Thomas (who was called "Secretary" Nelson). His father William Nelson was known as "President" because he served as the seniotr official on the Governor's Council. His grandfather was "Scotch Tom" Nelson, the immigrant who started the family fortune in Virginia and enabled his children and grandchildren to be very wealthy merchant-planters and influential officials in the colony.
Thomas Nelson went to England at the age of 14 and attended Eaton and Cambridge between 1752-1761. After getting an elite education, he returned to the colony of Virgina. Before even crossing the Atlantic Ocean, he was elected as a member of the House of Burgesses. He served until Gov. Dunmore dissolved the General Assembly in 1774.
When he married Lucy Grymes in 1762, his father William Nelson gave him 20,000 acres and 400 enslaved people, plus £30,000. There was no "work your way up from the bottom" process. From the beginning of their marriage, they were one of the wealthiest couples in the colony.
Thomas Nelson participated in the Virginia "tea party," and dumped two casks of tea into the York River in 1774 following the Boston Tea Party. He served in the first three Virginia Conventions in 1774-75.
He was elected by the Virginia Conventions to command the Second Regiment of Virginia militia in 1775. He left to serve as a delegate from Virginia to Continental Congress in 1775-77. He carried the Virginia resolutions for independence from Williamsburg to Richard Henry Lee in Philadelphia in 1776, and was one of the 56 people who signed the Declaration of Independence that year.
He suffered a series of strokes in 1777, but after recovery was elected by the General Assembly to be a delegate to the Continental Congress in 1779-80. In 1781, he was elected by the General Assembly to follow Thomas Jefferson and serve as the third Governor of Virginia.
His election as governor occurred on June 12, 1781, after Jefferson's term had expired at the beginning of the month. The legislature had fled first to Charlottesville as Lord Cornwallis approached Richmond, and then moved across the Blue Ridge to Staunton when Col. Banastre Tarleton occupied Charlottesville.
When the French and American forces besieged Cornwallis at Yorktown, British officers occupied Thomas Nelson's house. The structure had been built originally in 1730 by his grandfather "Scotch Tom" Nelson, then owned by his father "President" Nelson until his death.
Governor Nelson was, at the time, a brigadier general who commanded the Virginia militia as well as governor of the state. He ordered the American artillery to fire on his historic home. It survived the bombardment, unlike the house in Yorktown that was owned by his uncle "Secretary" Nelson.
After the British surrendered, Governor Nelson resigned his office on November 30, 1781 due to poor health.
He had committed the family fortune to obtain loans for funding military forces in 1781. The Congress never reimbursed him, and he was forced to relinquish most of his wealth as a result.1
Nelson County was created in 1784 and was named after Thomas Nelson Jr. It became part of Kentucky, but the Virginia General Assembly created a second Nelson County in 1807.2
Links
Biographical Directory of the United States Congress
Library of Virginia
References
1. G. Watson James Jr. (editor), Sons of the Revolution in State of Virginia Quarterly Magazine, Volumes 1-2, January 1922, p.50, https://books.google.com/books?id=-OcQAQAAMAAJ. "Lucy Nelson," History of American Women, http://www.womenhistoryblog.com/2009/11/lucy-grymes-nelson.html; "Governors of Virginia - 1607 to 1910," Virginia Genealogy Trails, http://genealogytrails.com/vir/governorbios.html (last checked December 10, 2019)
2. "Nelson County," Kentucky Encyclopedia, http://www.kyenc.org/entry/n/NELSO03.html (last checked December 10, 2019)
---
The Grymes Family