9th Generation: Lillian Ratcliffe Williams
Born: March 28, 1917, Reidsville, Rockingham County, North Carolina
Married: Tucker Carrington Watkins III, November 22, 1940 in South Boston, Virginia
Widowed: January 26, 1941
Married: Thomas Stokes Grymes, September 13, 1947 in South Boston, Virginia
Died: December 28, 2011 in Richmond, Virginia
Burial: Hollywood Cemetery


Lillian Ratcliffe Williams married two St. Christopher's graduates, starting with Tucker Carrington Watkins III
Source: Virginia Chronicle, Pine Needle (St. Christopher's School, December 20, 1940)
Parents: William Lindsey ("Buck") Williams and Lillian Ratcliffe
Children:
Thomas Stokes Grymes, Jr.
Charles Arrington Grymes
Lillian Williams grew up in a house on Irish Street in South Boston, and the family then moved to Marshall Avenue. A younger sister did not pronounce "Lillian" correctly, so she was known as "Bill."
She attended Sweet Briar College during the Great Depression, and earned a degree after four years.
After graduation, she attended a finishing school in Washington DC. Her father paid for her tuition to learn secretarial skills and to experience life in the big city, but noticed that no report cards ever arrived. He wrote to the person responsible for the school, and received a short reply that his daughter was "making adequate progress."
While at Sweet Briar, she had accepted an invitation from a student at Virginia Military Institute to a dance in Lexington. In the 1930's, young girls going to such a dance stayed overnight in a home chaperoned by a local woman. When Bill opened the door to greet her date, she discovered instead that she was talking to Tucker Watkins, an old aquaintance from Halifax.
Her date had become too ill to go to the dance, and asked his friend Tucker to substitute for him. She went to the dance and said she thought no more of Tucker afterwards, but he continued to think of her. He soon asked her to arrange a holiday party in South Boston, and they discussed who to invite as couples. When she finally asked Tucker who he would accompany, he replied "Well you, of course." That's when she realized he was interested.
They were married in November, 1940, and went away on a honeymoon. Not long after returning, Tucker was passing a car on a hill and hit another person head-on. He was killed and she went through the windshield. She was in the hospital for three weeks, and had a bridge to replace her missing front teeth for the rest of her life.
She lived with Tucker's parents, her in-laws, afterwards in South Boston. After returning from World War II, Tommy Grymes came to visit. He had been one of Tucker's close friends, was in the wedding, and had visited her in the hospital after the car wreck. They married in 1947.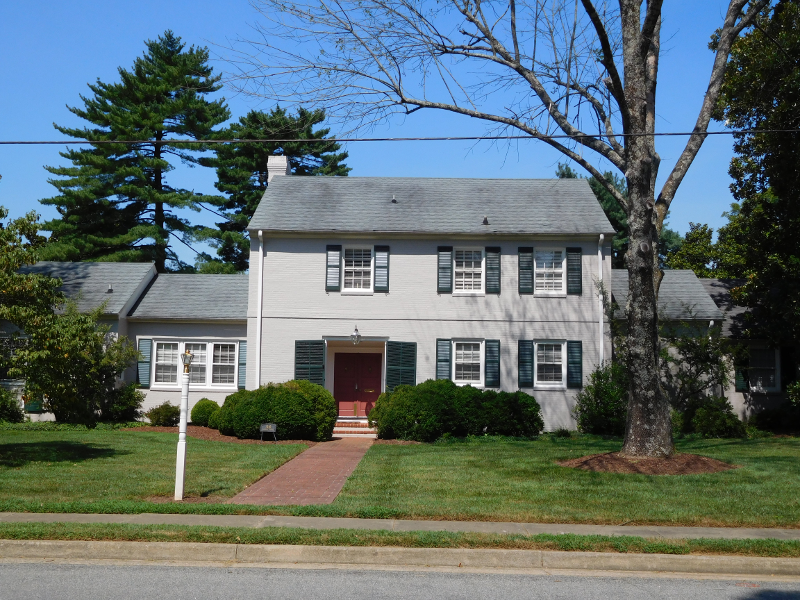 home of Dr. William Watkins, older brother of Tucker Watkins, on Marshall Street in South Boston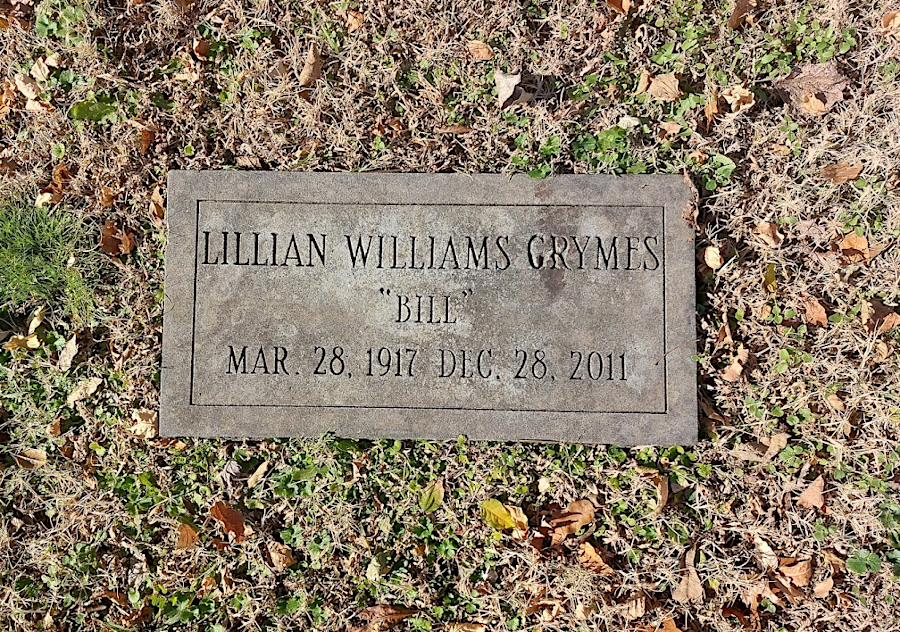 gravesite at Hollywood Cemetery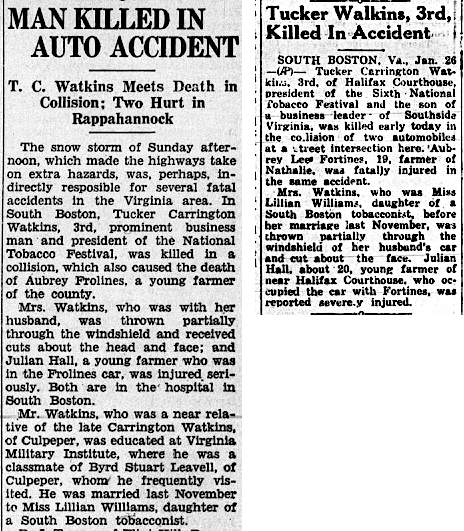 Tucker Watkins and another motorist were killed on Januay 26, 1941 in a car wreck
Source: Virginia Chronicle, the Virginia Star (January 30, 1941) and Northern Virginia Daily (January 27, 1941)
---
The Grymes Family